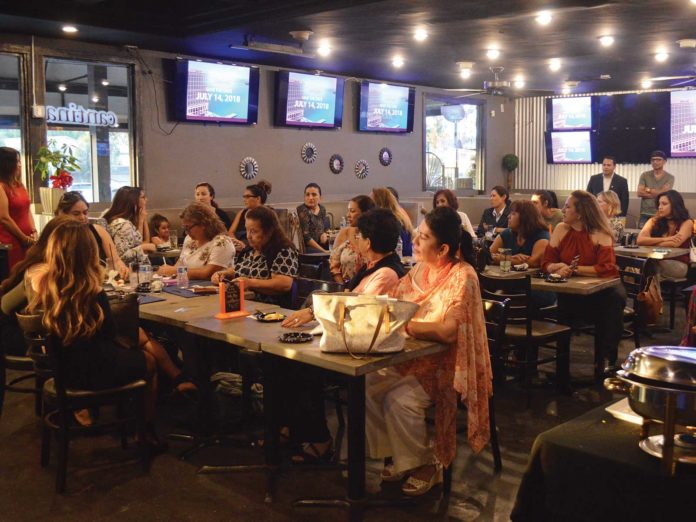 Celebrando Latinas, Más Mujeres de Poder, The B Factor y Colins Internacional crearon una alianza para promover a la mujer empresaria y armarla de herramientas para el éxito. La Serie Binacional de Desarrollo Empresarial de Mujeres es un proyecto ambicioso que busca intercambiar diálogos entre San Diego y Tijuana. Los foros se llevan a cabo en ambas ciudades y los temas se enfocan en la economía binacional que surge en esta región de una manera particular.
El ambiente político de ambos países, así como las diversas necesidades biculturales, abren las puertas a muchas interpretaciones por lo que es importante mantenerse al tanto de los sucesos actuales y las políticas que afectan a los negocios. En la primera sesión de este proyecto Nora Vargas, Vicepresidente de Relaciones Gubernamentales y Comunitarias de Planned Parenthood of the Pacific Southwest nos habló de las diferencias en el protocolo político y comercial de la región. En noviembre, Paola Ávila, Vicepresidente de Relaciones Binacionales de la Cámara de Comercio de San Diego compartió información sobre el estado actual del comercio México-Americano y de las oportunidades y retos de nuestra economía binacional.
La mujer Latina que busca invertir y ser emprendedora en ambos lados de la frontera puede aprovechar las ventajas que ofrece la región; tales como la existencia de dos aeropuertos internacionales y dos puertos principales, y las diversas fundaciones y organizaciones que se dedican a guiar a la mujer emprendedora para aprender cómo hacer crecer su negocio, a superarse y a mejorar su liderazgo y educación. Estas oportunidades hacen que sea más fácil que la mujer hispana ocupe posiciones empresariales más elevadas y mejor pagadas.
Cada año las mujeres Latinas estamos marcando más y más nuestra huella en el sector empresarial, y debemos dar pasos firmes. La Serie Binacional de Desarrollo Empresarial de Mujeres promete continuar el dialogo y poner al frente a las mujeres que destacan por su esfuerzo de promover a otras mujeres de negocios. Síguenos en Facebook para que no te pierdas los próximos foros informativos.